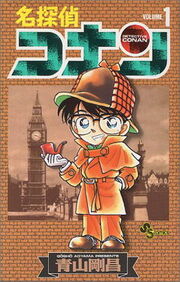 Case Closed also known as Meitantei Conan (, Detective Conan), is a japanese detective manga series written and illustrated by Gosho Aoyama. It where count 65 volumes which of that 706 chapters where added in the detective manga series. It where shown in Shonen Sunday at May 1994 but whit problem issues it where released at June 1994. It where also adopted into anime that where counted 554 episodes. It where based on the manga of Gosho Aoyama and evenly it where evenly some episodes dropped by the idea of there own. This anime manga became popular in Japan and also in the United States and England which that they called Case Closed because the name 'Conan'.
Jimmy Kudo is a gifted 17-Year old high school student/detective taking on the footsteps of Sir Arthur Conan Doyle's Sherlock Holmes as his big example. Later he take his best friend Rachel Moore (his girlfriend) to an amusement park as promise to Rachel. Later there was a murder case where the victim was decapitated while riding a roller-coaster. Jimmy solves the case by explaining the method of the killer, which involves a piano wire and using a hook on the track of roller coaster. He saw Vodka after solving the case, who is one of the BO members, which acted suspiciously to Jimmy. Jimmy decided to follow him to find out what his plan is, later it claimed to be an blackmailing case which that the Black Organization has a movie about that a company president where he is trading  illegal weapons. Jimmy decided to bust the transaction when he was smacked to the head, leaving him barely conscious. Gin, the other suspicious member of BO, gave him a strange new developed poison which transformed Jimmy's body into a child. He took the alias name Conan Edogawa from (Sir Arthur Conan Doyle and Edogawa Rampo). He lives with Rachel, his girlfriend and best friend and her father, who is a defective detective named Richard Moore that can't even solve cases completely. Conan decided to help the father of Rachel in hope that he can capture the secret crime organization to get his real body back and be with Rachel Moore.
Settings
Edit
The anime manga of Gosho Aoyama where based on Arthur Conan Doyle's Sherlock Holmes, which that vieuw of them characters where based on Asrene Lupin from Maurice LeBlanc, Kogoro Akechi from Edogawa Rampo. Evenly the vieuw people's where known as Kaito Kid that looks like Asrene Lupin by the Monocle and the Hat, and evenly Richard Moore look a little bit like Kogoro Akechi.
Other Detective Series
Edit
Thanks by Gosho Aoyama there where other detective fictions created such as Detective School Q that evenly goes about a 11-year old person called Kyu what strange is that Q means in Japanese Kyu. He's an Sherlock Holmes fan just like Jimmy, he want's to be an real detective like Sherlock Holmes. Where he headed to the school acedemy for Detective's. Evenly he meets there new friends and some cases to solve. But he's not much better than Detective Conan.
Acually is that a strange vibe between Shool Detective Q and Detective Conan wich that kids just wanna be an detective. Kindaichi is also a verry populair detective serie wich that he's also a professional detective that follows his footsteps of his granfarther or farther that where be an professional detective. There where also a new detective serie anounced in 2010, but where not sure what's it gonna to be.
Specials where people's clashing with detective Conan.
Lupin the 3rd (Special anime episode)
Kindaichi No Jikenbo (videio game)
Yukio Yama (3 Special anime episodes)
Ad blocker interference detected!
Wikia is a free-to-use site that makes money from advertising. We have a modified experience for viewers using ad blockers

Wikia is not accessible if you've made further modifications. Remove the custom ad blocker rule(s) and the page will load as expected.